THE HISTORY OF MY TWO WHEELS
My first introduction to the wonderful world of motorbikes was by my cousin when we were 7 or 8. I used to beat up the neighbors for him. Now, he's the bad ass but that's another story. Anyway, he had a Honda XR50. It was a tiny little bike but then again so were we. Since then I've owned motorcycles pretty much my whole life. There's been a time or two when I didn't own anything but those were dark days I don't like to talk about. I now ride a BMW R1200 GS Adventure. I love this bike. It rules.

She's perfect.

Switzerland 2012 – I saw this guy road trippin' in Switzerland – it immediately made me homesick but only because I wanted to ride
Italy 2012 – The EVO HD 125. Bad to the bone scooter rental in Lipari, Italy. The load capacity on that thing was astounding. You can't tell from the photo but I had my Ogio 9800 (their biggest bag I believe) precariously perched on the back with my big camera backpack strapped to the front of me. Balance was an issue. It guess it all worked out that day… and what's with that helmet? It looks like a giant lady bug sitting on my head.

Cuiaba, Brasil 2011 – This is a GSXR my friend Claudemir let me borrow for a second. It's the best pic I had so don't be too hard on me. It's a very fast bike on a very terrible road with many bumps and holes. Not ideal.
2007 – I got a sweet deal on a 2006 Honda VTX 1300 so I bought it. I added some custom pipes, drag bars, suspension, tore off all the Honda logos, and increased the rake a few degrees. My best memory – flying home as fast as I could while snow fell around me. A storm blew in incredibly fast late one afternoon making the 25 miles home a frigid experience. I'm pretty sure I couldn't feel my hands for an hour or so after getting back. I rode fast and made some very questionable maneuvers on the highway that day. There's somethin' to be said for riding as fast as you can.

Bali 2000 – Scooters rentals were cheap and that's right in my price range. Besides, I needed to get to out Uluwatu – an amazing surf spot. I'd sit and watch the breaks from the cliff side cafes. The reef is so shallow you can walk out about 100 yards into the sea. I never surfed there. I'm just not that good but it was definitely a highlight of the Bali experience.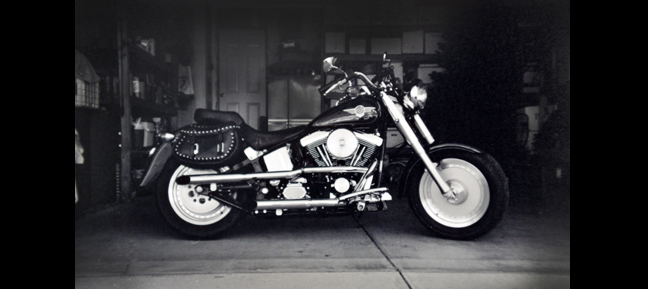 1999 – I bought this '96 Harley FatBoy in 1999. The sound on this baby was so loud and sweet – It was so loud I could set off car alarms while riding by parked cars. Those were good times.


1986 – The deal: earn 3 Eagle Palms (it's a Boy Scout thing) and get a dirt bike. So I did. It was a 1984 Honda XR350R. This bike was so big I had to keep the kick stand down just to start it. I was only 14 and hadn't nearly started to grow yet (nature would wait several more years for that to happen). I'm not exactly sure what my dad was thinking – I think he was thinking this will build character. It did. I loved that bike and owned it for over 10 years. I wish I still had it.
1982 – My first bike: 1982 Honda XR80. I was on this bike pretty much every waking hour – Santa was good to me that year.